Contest prep is exciting.  It allows me to see in a mirror what I think I've built, but can only feel from the inside.  Prep is also a challenge.  It's pushing the fat-loss process further than most need to go.  The goal is "shredded" not "bikini body".   I can't lie, I'm running on faith that someone like me can attain that kind of conditioning.  I haven't done it before.  I trust my coach and the process, but I can't visualize yet where this is going to end up.   It can be dangerous when people try to do this too fast with extremely low calories, use drugs, or use water manipulation to create a leaner look.  I've done two preps with water depletion and  promised myself that I would never do another one.  To avoid it, I need to be a lot leaner.  I've worked too hard to regain my health.  I appreciate what it has allowed me to do and I don't take for granted that I can do extreme things to myself and bounce back at my age.  (I wanted to take a moment to say that before I get into the nitty gritty reporting of what's going on.  I know most people who follow my journey aren't bodybuilders.  I want to reassure everyone that even though my goal for this prep is to push my conditioning farther than I've gone before,  I'm feeling more balanced than ever this time around.  Kudos to coach for that.)
Quick summary:  I started cutting calories last September.  Coach has had me doing cutting/maintenance cycles since that time.  As of this morning, my total weight loss for that period of time has been 13.8 lbs.  I call the maintenance cycles "diet deloads".  
The most recent diet deload started on March 4th and ended on March 13th.  During that phase, I used the Bodybugg to keep track of my calorie burn throughout the day and ate those calories.  The goal was to maintain my weight.  I always keep my protein stable and will adjust fats and carbs to do whatever I'm trying to do.   I just went back and looked at the reports.  Turns out that, on average, I ate about 100 calories more each day than I burned.  That's OK.  It's a recovery time.  And I am working hard to not get too OCD about things this early in prep.  (Hoping to avoid calorie/marco OCD entirely, honestly.)  During the deload phase, my macro averages were…
Carbs = 271 grams
Protein = 152 grams
Fats = 80 grams
During the week of diet deload, I gained a pound.  Not a care was given.  It was just a normal fluctuation as my  body healed itself.   (A year before, March 2014, in off-season, I was about 5 pounds heavier and eating about 70 carbs less and 10 fats more.  Just throwing that in here because I think it's interesting.)
I took before/after pictures during the deload phase to see what happened.  Happy to say, not much.  Just some puffy water weight.
I've been back on a 500-calorie deficit cutting phase for a week.  A little cardio has been added into the program now, too.  My goal for the week was to burn 800 calories in cardio.  I think I did a bit over 900.  I figured out real quick that I got to eat more on days I had that little bit of cardio because the overall deficit was still going to be 500.  I do cardio for food.  (OK – it was kind of enjoyable, too.  It didn't take long.  About 30 minutes of walking a day.)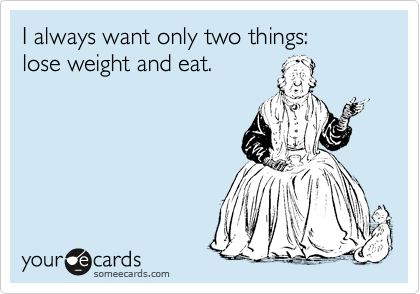 I hit my lowest scale weight of this prep on Thursday at 144.4 lbs.  I usually lose weight in 0.2 pound increments and will bounce up and down after I hit a low.  Got up this morning and my weight was 143.2 lbs.  I expected 144.2.  I'm happy?  OK, sure.  I'm happy.  Its just mentally hard to shrink after spending years trying to get bigger.  The scale game/weight loss process is not linear and it's not efficient.  Biology doesn't favor bodybuilders.  Body likes fat.  It will burn new muscle before fat.  So when the scale drops, I am accepting the data as "good" because it's progress and it has to happen.  And then I take the negative thoughts and put them in a box, shove the box in the back of my head, throw a blanket on it, and walk away.
AND NOW, SOME RANDOM THOUGHTS…
The mental game is hard for me.  Pretty sure that comes from being an introvert and being a little nervous about the stage.   I'm not my biggest cheerleader.  Every day, I tell myself that I'm too small for bodybuilding and I'm just now approaching a decent "figure" physique – which is a good thing, by the way.  But that's not the goal I have for myself.  But I am closer now than I was in 2013, that's for sure.  I'm hoping that as the prep continues, I'll see more of the FBB silhouette I've been working on all this time.
My attraction to this sport is the creativity of it.  The longer I do it, the less I'm attracted to the idea of 'discipline  through deprivation' and the more I realize that "discipline" for me is just a set of tools (lifting, nutrition, logging, rest, stress management) I use to create a living sculpture from the inside out.  I'm not really not in-love with the idea of suffering and making sacrifices to advance in the sport  I honestly don't see the point of me, a 50-something female natural bodybuilder, of doing anything but enjoying the hell out of this as much as I can.
Let's connect! Follow me on social media: