I watched the show for years before I started my journey.  I wasn't on Facebook then.  I wasn't blogging.  Like so many people, I struggled with my weight for years – decades actually.  I tried and fell off so many programs and diets.  (Lifetime member to Weight Watchers – didn't work for me long term.)  So I was fascinated by The Biggest Loser.  I followed that show closely.  I researched and bought the BodyBugg because they used that gadget and tracking data made sense to me.  I didn't know enough about the process to have an educated opinion about the methodology.    I'm glad I didn't know better because that knowledge would have jaded me.  I wouldn't have tried.  That show meant one thing to me – hope.  Hope and proof that it could happen.  "If they could do it, why not me?" I thought.  I knew it would take me a lot longer than the people at the ranch, but I knew it could work.  That put me on the path to find people to help me.  Some were amazing and some were less than amazing.  But the concept that I would need one-on-one help instead of doing it alone, that came from the show.
About this time last year, there was a heated discussion on a page run by a coach used to promote his business.  The coach was upset that BL was going to include teenagers on that cycle.  I understood why people were upset and I agreed with them.  But, as a high school teacher, I wondered what my students would think.  I made a comment that kids would be intrigued by teenagers being included, and that any trainer or coach that felt strongly about getting good information to kids, should volunteer at a local school to be a guest speaker in a health or PE class to talk about how to lose weight in a healthy way and answer their questions.  My students ask me about fitness and nutrition almost as much as math.  This particular coach did not like my comment and replied rudely and unprofessionally, in my opinion.  I missed the point, I was told.  The point, from what I could gather, was that we were supposed to bash the show.  Oops!  I guess I did!   Hahahaha!
Well, today, I'm still not going to bash the show in response to today's reaction to yesterday's finale.  I don't watch the show anymore because I don't watch network TV at all.  (I go to bed before prime time starts.)  But I've seen the pictures of the winner today and I understand why there is a strong reaction.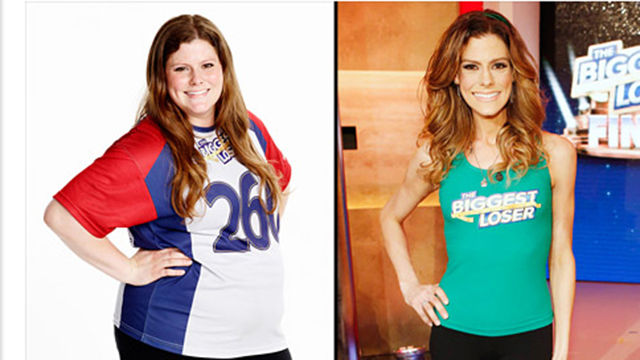 Instead of addressing this situation directly, I'm going to repeat myself…this a teaching moment.
I'm going to use it as a conversation starter with my clients and coworkers who I've helped get started on their own journey.  I'm going to ask my students what they think and start that discussion.  I'm going to answer questions by sharing what I've learned about nutrition and safe weight loss.  I have my personal experience, but I have also studied, earned a couple certifications, and have worked with clients.  I've learned that no one has the exact same path to health.  I've also learned that you cannot judge a person based on her picture.  (I've been on the receiving end of that one.)
I'm hoping that the reaction people are having today will start a conversation between the producers, sponsors, and trainers of the show about improvements they may want to make to support healthy transformations.  I hope it starts conversations between trainers and their impatient clients who want change to happen over weeks that really should take months, or even years – as in my case.
I ask that you refrain from bashing the show or saying anything negative about the winner if you choose to comment or share this blog.  I want to challenge fitness professionals who feel strongly about it to call a local school and volunteer to be a guest speaker.  Kids want to know about fitness.  High school athletes are very interested in sports nutrition.  Many are also curious to learn more because they are worried about a parent or grandparent.
I guess I'm saying that there is a lot that can be done besides reading or bashing on social media.  I plan to take advantage of the teaching moment because, well, that's what I do.
Find LMS on your favorite platform!