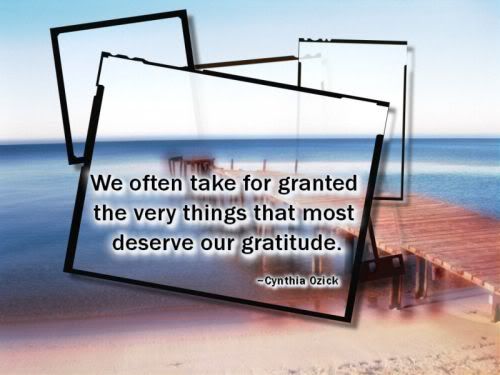 For the last few days, I've lost control of my mental game.  (Wrote about that in the last blog post about Siberia – still the plan, by the way.  Keep to myself, reduce noise as much as possible.)  But my mind keeps slipping to the dark side – very negative.  And in my funk, my little discomforts, sacrifices, inconveniences, annoyances, and insecurities have become more important than they are – I'm just living in my head too much and losing perspective.  It happens.  I indulge myself too much.   And then something happens in the world – something real and scary and sad –  that reminds me that all these things that I worry about are not only trivial, some just exist in my head – not in reality.  Worries and apprehensions.
I forgot.   I am blessed.   Period.   I lose sight of that fact and fall back into the "woes me, my life sucks" mentality for few days.
How do I fix my head?  I get GRATEFUL.  I expect that I'll need to do this more frequently in the coming weeks.  I also think I've blogged about gratitude many times.  It's how I cope.  I took it for granted that I had this gratitude habit locked down.  Apparently not.  So I looked around and made a mental list of the big and little things that I'm grateful to have in my life.  Some of these things would be what you would expect.  Some things are a little random.
And this week, I'm really grateful to Sara Bareilles for this song…
[youtube=http://www.youtube.com/watch?v=QUQsqBqxoR4]
Let's connect! Follow me on social media: